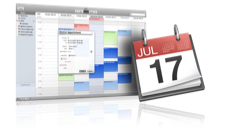 Here's a look at how Apple's iCal and iCal Server relate to other products on the market, and how the iPhone handles calendaring....

When Leopard ships, the iPhone will no doubt gain support for working with CalDAV open calendar servers, including over the air support for syncing with iCal Server, and hopefully also the online calendars at .Mac, Google, and Yahoo.
Better calendar support from Apple, including server-side, client-side and sync will be most welcome.